Best Gamer Award ~
Dedikasi Blizzgamers dalam acara TGR membuahkan hasil dengan menyabet Penghargaan Gamer Terbaik (Best Gamer Award). Panitia TGR menganugerahkan penghargaan ini karena semangat dan antusias Blizzgamers dalam mengadakan Turnament Terbaik (Kualifikasi HS) dan ikut memeriahkan suasana TGR kali ini dengan event Hands-on Overwatch.
Blizzard Gamers Indonesia (Blizzgamers) ikut berpartisipasi dalam Toys and Games Republic Mark VI yang berlokasi di salah satu mall ternama di Bandung, yaitu Trans Studio Mall. Acara ini berlangsung selama 2 hari dari tanggal 3 sampai 4 September 2016. Booth Blizzgamers berlokasi di E1-E6 di mana posisinya berdekatan dengan main stage.
Booth ini juga dilengkapi dengan layar InFocus terbaru yang menayangkan trailer-trailer teranyar dari game-game Blizzard, dan salah satu trailer yang paling menarik perhatian adalah Trailer World of Warcraft: LEGION dan Animated Shorts Overwatch.
"ACARA BERGENGSI YANG DISELENGGARAKAN OLEH EO CLOVER TIAP TAHUNNYA INI, MENDATANGKAN LEBIH DARI 70 INDUSTRI LOKAL DAN KOMUNITAS DI DALAMNYA."
Tema TGR Mark VI adalah Robotics, jadi semua tampilan tempat, tayangan film, merchandise dan tiket pun bertemakan robot. Tidak ketinggalan The Last Bastion, salah satu karakter dari Game Overwatch pun turut menjadi bagian dari tema TGR tahun ini.
Hands-on Overwatch
Booth Blizzgamers juga dilengkapi dengan beberapa PC gaming untuk Hands-on game terbaru besutan Blizzard Entertainment™ yaitu Overwatch, game FPS pertama dari Blizzard. Bahkan ada tim yang tak asing lagi mungkin buat para gamers di Indonesia yang ikut nimbrung main Overwatch di stand kami.

Overwatch adalah permainan online multiplayer first-person-shooter  yang baru dirilis oleh Blizzard Entertainment pada Mei 2016, Overwatch telah berhasil mencuri perhatian para gamers tidak hanya di luar negeri, tapi juga di dalam negeri. Game ini berhasil mengumpulkan 9,7 juta pemain pada periode open beta dan 15 juta pemain pada Juli 2016 (kurun waktu 2 bulan saja), Overwatch bahkan baru-baru ini dinyatakan sebagai game terpopuler di Korea Selatan (PC Bang), menggeser League of Legends setelah selama empat tahun berturut-turut menjadi nomor satu.
Turnamen Kualifikasi HearthStone
Selain itu, Blizzgamers dipercaya oleh IeSPA untuk menyelenggarakan turnamen HearthStone guna menentukan perwakilan negara Indonesia di 8th IeSF World Championship yang akan digelar tanggal 6 – 9 Oktober 2016 yang akan datang di Ancol, Jakarta. Turnamen kualifikasi ini digelar pada tanggal 3-4 September 2016 kemarin, di mana hari pertama digunakan untuk pra-kualifikasi dan hari kedua digunakan untuk menentukan wakil Indonesia yang disaring dari 16 pemain terbaik dari babak pra-kualifikasi.
"BLIZZGAMERS DIPERCAYA OLEH IESPA UNTUK MENYELENGGARAKAN TURNAMEN HEARTHSTONE."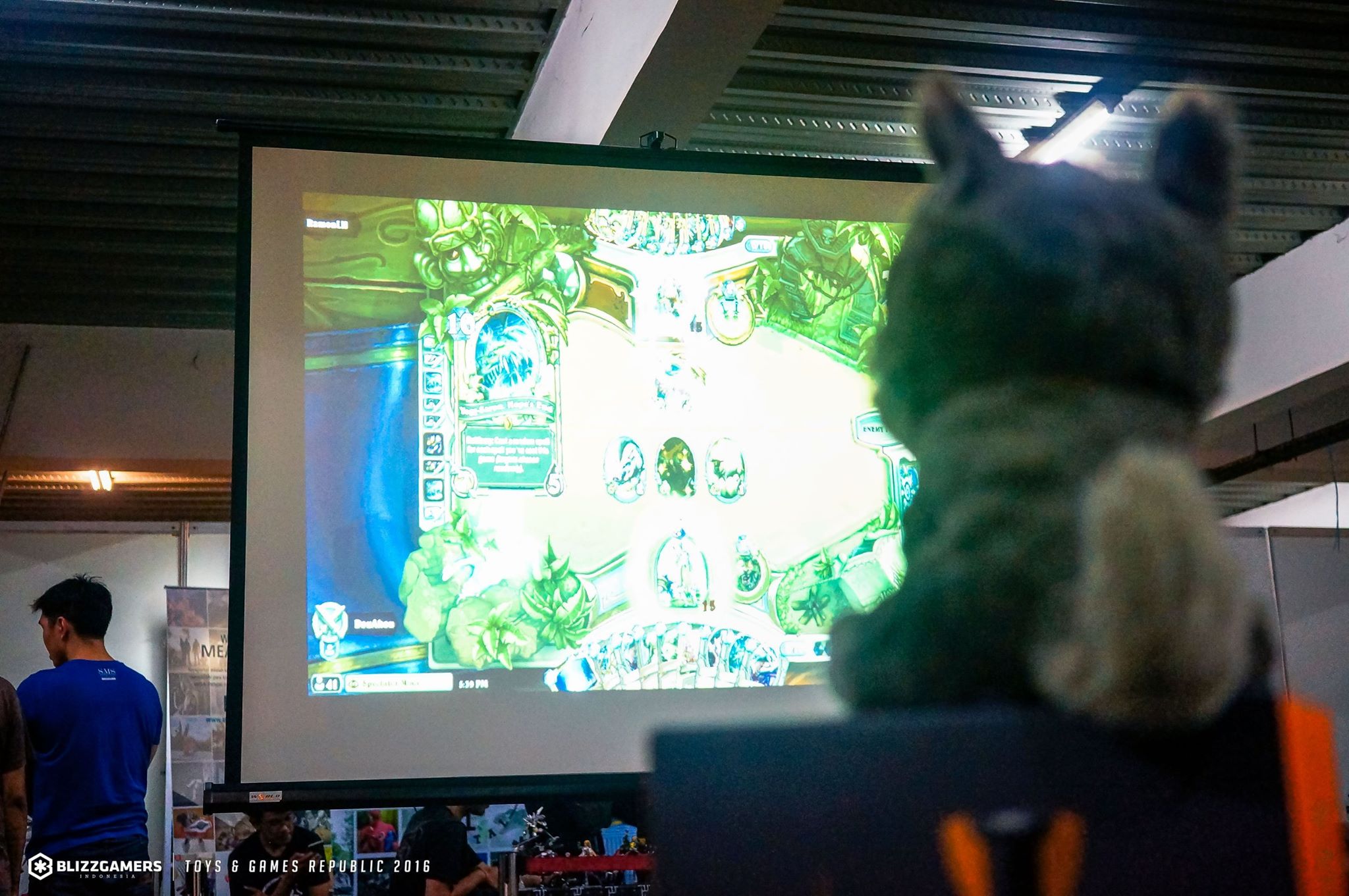 Karena banyaknya pendaftar yang mencapai 68 orang maka diadakan babak pra-kualifikasi dengan menggunakan sistem Swiss, dari sini akan terlihat peserta yang memiliki skill dan stamina yang baik, serta performa yang stabil maka otomatis akan berada di klasemen atas. Dari hasil pra-kualifikasi ini diambil peringkat 16 besar untuk ditandingkan kembali di hari kedua dalam babak kualifikasi hari kedua untuk menentukan satu orang wakil Indonesia.

Setelah melalui pertarungan yang cukup seru dan sengit, diperoleh hasil Pemenang Pertama, yang sekaligus akan mewakilkan dan memperjuangkan nama harum Indonesia di 8th IeSF World eSport Championship:
Rama Ariangga Akbar, dengan battle tag DouAhou#1608, dari Jakarta.
Ramon Tandjung, dengan battle tag RamonLH#1984, dari Surabaya.
Novan Kristianto, dengan battle tag nexok40#1477, dari Bandung.

Blizzgamers juga tidak lupa membagikan Lootprize kepada peserta turnamen yang datang on-site. Lootprize yang dibagikan Deathwing Funko Pop dimenangkan oleh Daevas#1170, Figure Heroes of the Storm The Lich King Arthas Menethil dimenangkan oleh Qonq#1913, dan Frostwolf Pup Plush dimenangkan oleh FlusHCoRe#1612.
"BLIZZARD LOOT + DOORPRIZE = LOOTPRIZE"
Acara Blizzgamers di dalam TGR kali ini juga mendapatkan dukungan dari beberapa sponsor, yaitu Razer, MOL Indonesia, Dapoer Pandan Wangi Resto Sunda, Seamless Shirt, Gading Computer.
Foto galeri acara TGR Mark VI di facebook Album: BLIZZGAMERS – Toys & Games Republic 2016