Setelah HearthStone Community Gathering dan Tournament berlangsung tahun 2014. Kini saatnya Blizzard MOBA yang dikenal dengan nama Heroes of the Storm juga diselenggarakan di XL Xplor Central Park Mall, Jakarta, pada bulan Agustus 2015 pada "MOL Gamers Day 2015". Sebentar, koreksi dikit, bukan MOBA tapi lebih tepatnya Blizzard Hero Brawler. 🙂 Acara kali ini juga sekaligus merupakan Gathering Perdana komunitas Heroes of the Storm Indonesia.
MOL Gamers Day tahun ini juga berlangsung dengan meriah dan kini bedanya adalah banyak sekali tim yang sudah terbentuk dan datang ikut bertanding. Ya seperti MOBA-MOBA lainnya, eh Hero Brawler, satu tim terdiri dari 5 orang pemain. Selain tim dari gamer-gamer casual (edit: non-pro), ternyata banyak tim-tim yang tidak asing lagi, beberapa pemain tim pro dari game MOBA lain, seperti League of Legends, juga terlihat ikut berpartisipasi meramaikan turnamen kita kali ini.
Untuk game yang terbilang masih baru, antusiasme para gamer pro untuk ikut ambil bagian tidak memupus semangat tim-tim yang "belum" pro untuk ikut menyicip skill-skill para guru MOBA ini. Terbukti pertandingan-pertandingan yang sengit dan penuh sorak-sorai dan teriakan para penonton mampu menggugah rasa penasaran pengunjung mall yang hanya lewat dan hingga ingin ikut nonton.
Beberapa bertanya: "Ini game apa ya? Kok mirip DOTA 2 tapi bukan DOTA 2 ya? LoL juga bukan?" Apalagi dengan grafis yang cukup memukau dijalankan di atas laptop Razer gaming dari sponsor.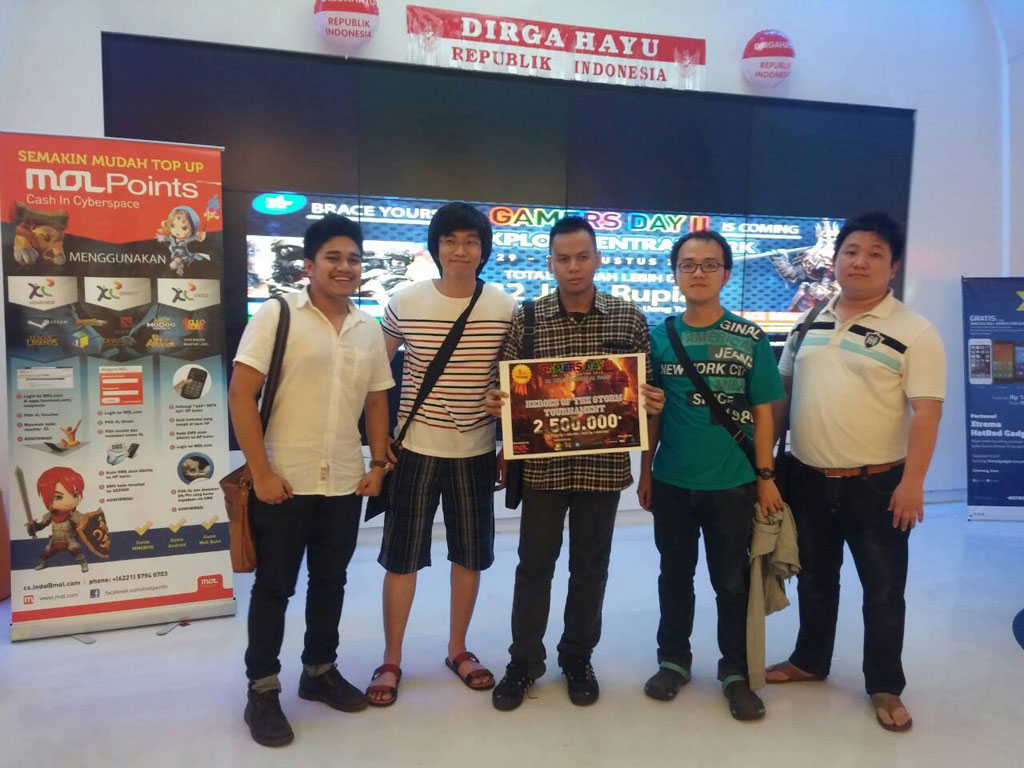 Setelah melalui pertandingan demi pertandingan yang alot dan sengit, akhirnya kita mendapatkan juara pertama "Heroes of the Storm" Tournament kali ini, yaitu tim dari: Revival e-Sports.
Selamat ya buat para pemain tim Revival e-Sports! 🙂
Press Coverage Event ini: